Is "John" from "your bank" calling you again about an amazing loan offer, just as you sit down to eat dinner with your family?
UGH!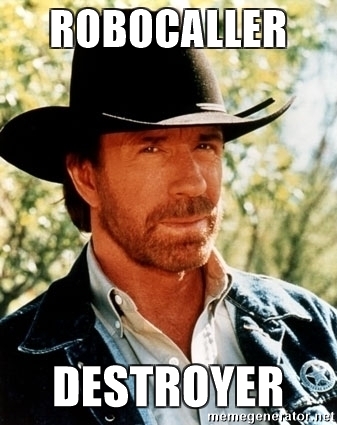 Did you know: companies blast thousands of calls every minute to people all over the country.
According to the Federal Communications Commission, there are nearly 2.4 billion robocalls made every month.
Want to get rid of annoying robocalls? Check out these do & don't tips to help you be more aware and combat robocalls for good!
DO Google your number
Go ahead, try it. When I enter my personal cell phone number, it doesn't pull up my name. But, when I go to Nuwber.com, a site that piles information from the White Pages, Public Records and Social Network sites, cyber scammers can scrape your details and use it to their benefit. What can you do about this? Not much. But, bringing awareness to the fact that this is out there may make you think twice about handing out your phone number like candy when signing up for that website's mailing list. More reason to get a parked number with NumberBarn, right? More on that below.
DO Add your number to the Do Not Call Registry.
If you haven't already, add your cell number to the National Do Not Call Registry. If you're not sure if you've added your number, they will check their database and send you an email to verify. I've been listed on here since 2008, but the amount of spam calls I receive make it seem like I'm not on there at all. Looks like robocallers are tap dancing their way around the list. I can't imagine what my phone would be like if I wasn't on this list, however. Plus, when you're already on the Do Not Call Registry and still get tons of scammy calls you can file a complaint with the FTC, which compiles the reports and hands out fines to these companies. Just make note of the caller ID(s) before reporting.
DON'T Answer Calls from Unknown Callers
Make it a rule of thumb to not answer calls from unknown callers. Wait for someone to leave you a message then return their call. The reason? As soon as you pick up the phone for a robocaller call, they have a system in place that tags the number as "real". This means that they know your number is legit and they'll keep sending more calls your way.
DON'T Speak or press any buttons
In this article by ConsumerUnion.org, "Scammers can use what's called "spoofing technology" to make a phone number appear differently on a caller ID. As one can imagine, it can be especially problematic when a scammer "spoofs" a number to impersonate the IRS, the recipient's local police department, or the recipient's bank. It's important to remember that none of these organizations would ask for your private information like account numbers, credit card numbers, usernames, and password over the phone."
If you accidentally do answer a robocall…don't say a word and just keep silent. According to an article on USA Today:
"An automated call provides an introduction and identifies a business or agency. After the intro, the recording will ask if you can hear clearly.
If you answer yes, the scammer behind the call may have recorded you, could plan to use your affirmation to sign you up for a product or service you never knew about and then will demand payment. If you refuse, the scammer may produce your recorded "yes" response to confirm your purchase agreement."
Additional information can be found in this article, with advice from the BBB.
DO Use call blocking
Take matters into your own hands and block the calls. NumberBarn and NumberGarage offer Call Blocking options with all of our plans. Here's how to block calls using your cell phone:
iPhone
Select the green phone icon from the home screen.
Select the "Recents" section.
Select the blue "i" info icon next to the phone number you want to block.
At the very bottom of this page, you'll find "Block This Caller."
Select that option and then when the verification screen appears, select Block Contact.
Android
Android 6.0
Visit your call logs and long-press on the number you want to block.
Select "Block number" from the pop-up menu.
Android 7.0
Select the Recent Calls tab then select the contact you'd like to block.
Select Block/Report spam. A pop-up message will appear. If you keep the box selected, your phone will report the number as spam to Google.
DO Download a call blocking app
A handful of great call blocking, scam call alerting apps for both iPhone and Android are out there. Below, you'll find a list of some paid and free apps to try. Note, we're not affiliated with any of the companies below, but we think the apps are pretty awesome and want to share:
Hiya
Where: https://hiya.com/
What: "Whether it's a friend, a trusted business, or an unwanted spammer, Hiya provides the context needed to confidently take or make calls."
Bonus: Check out their Robocall Radar that shows how many robocalls were made to mobile phones during the year, as well as the top area codes from those callers.
YouMail
Where: https://www.youmail.com/
What: "Your automated virtual receptionist."
Bonus: Looking for visual voicemail? YouMail has you covered with access of your VMs from any device.
PrivacyStar
Where: https://www.privacystar.com/
What: "PrivacyStar is the first to show you both the caller's name and why they are calling. PrivacyStar identifies and blocks millions of unwanted phone calls while delivering hundreds of thousands of complaints against offending callers directly to the FTC."
Bonus: They offer CallerYD®, which doesn't just tell you who is calling, but why.
http://mrnumber.com/
TrueCaller
Where: https://www.truecaller.com/
What: "Identify the person or company calling before you pick up. See the true identity of each incoming call — landlines, mobile, or pre-paid — even if the number isn't stored as a contact."
Bonus: Stay on high alert with access to the top spam caller phone numbers in your area.
NoMoRobo
Where: https://www.nomorobo.com/
What: This app identifies robocalls and answers them, so they don't get through to your actual phone.
Bonus: This company won the FTC Robocall Challenge.
Note: While we're not an accepted provider for NoMoRobo at this time, the number you are forwarding to, such as your cell phone, may be.
RoboKiller
Where: http://www.robokiller.com/
What: "RoboKiller automatically blocks over 100,000 telemarketers and robocalls from ringing, even if they are spoofing or changing their numbers."
Bonus: RoboKiller claims for an "85% reduction in all types of spam calls to their phone within the first 30 days", which is pretty excellent!
DO Think about using a separate phone number
You don't have to stop entering your personal information on social media, mailing lists, etc. By obtaining a separate local phone number with NumberBarn for $2/month, you can fill out those forms using a different phone number than your cell phone. That way, callers can dial that number instead of the call coming through on your cell, interrupting your Netflix movie binge night. When the caller does dial to your parked NumberBarn phone number, you can choose what happens – the caller may hear a standard recording or you can record your own. NumberBarn and NumberGarage also offer Forward plans that can ring to your cell phone, if you choose.
We hope this post helps get you on the right track to becoming a robocaller destroyer and kicking those unwanted calls to the curb!