You want to sell or license one or many of your telephone numbers with NumberBarn. And for good reason. With more than 40 million numbers in our marketplace, and more than 12 million searches per month, we are the clear choice for managing, selling, and licensing your numbers.
The first step in selling or licensing your numbers is to port them to your NumberBarn account. In this guide, we'll walk you through each step in the process.
What is porting?
Porting means transferring your phone number from one service provider to another. Let's say your number is with Tomato Wireless. You will port your active number from Tomato Wireless to NumberBarn. The number will eventually no longer be with Tomato Wireless and you'll no longer pay them for service. Instead, you'll pay NumberBarn. This process takes anywhere from 3-10 business days.
How to begin
If you're planning to sell or license multiple numbers:
If you're porting multiple or many numbers, it's often best for us to submit them all in a single order. Instead, mouseover Transfer a Number and click Bulk Phone Number Porting. We'll want you to send us a list or spreadsheet of the numbers you wish to port in.
If you're planning to sell or license just one number at a time: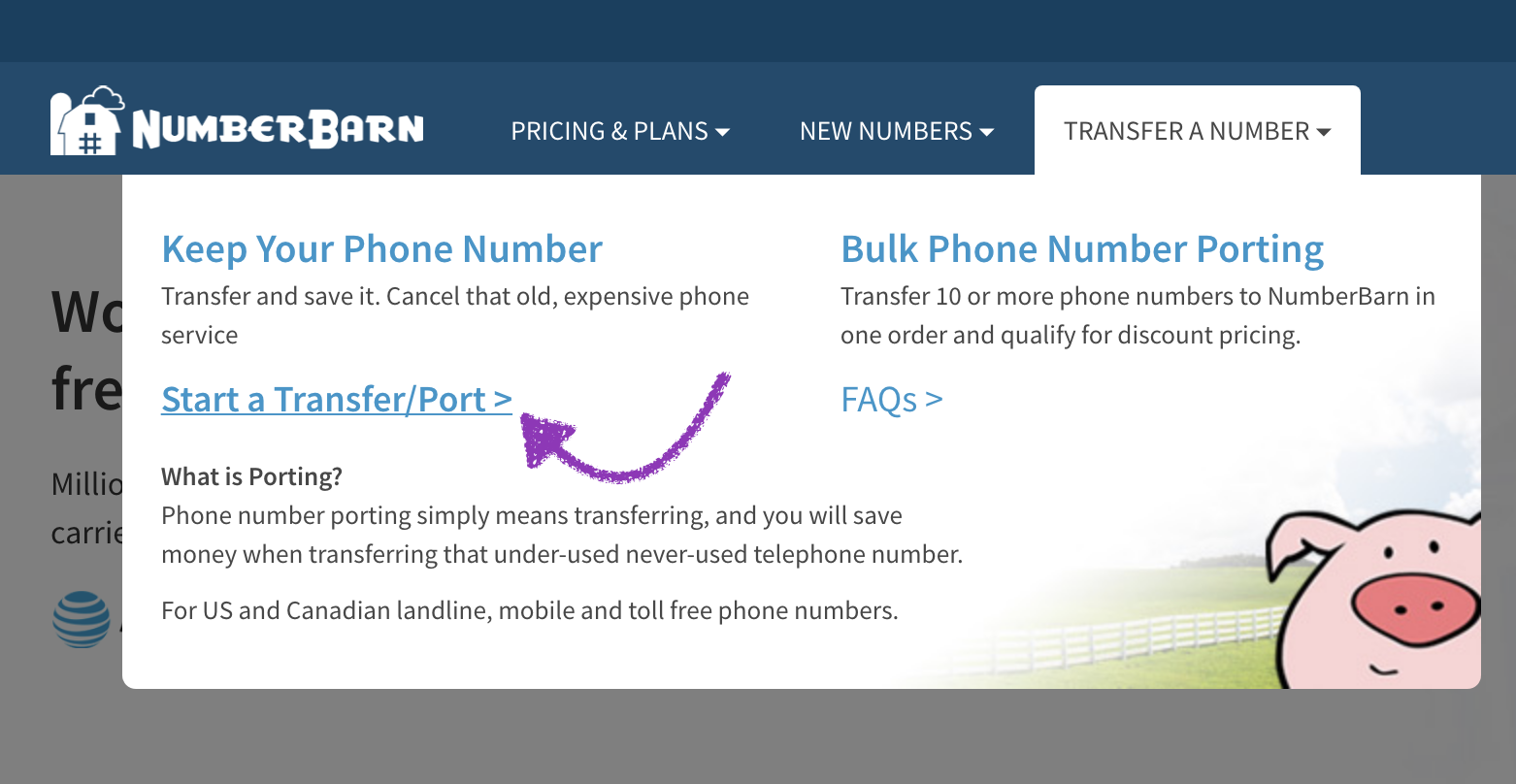 Enter the phone number you would like to port. Hint: Hit the tab key to enter numbers into the next box.
Select the Check button.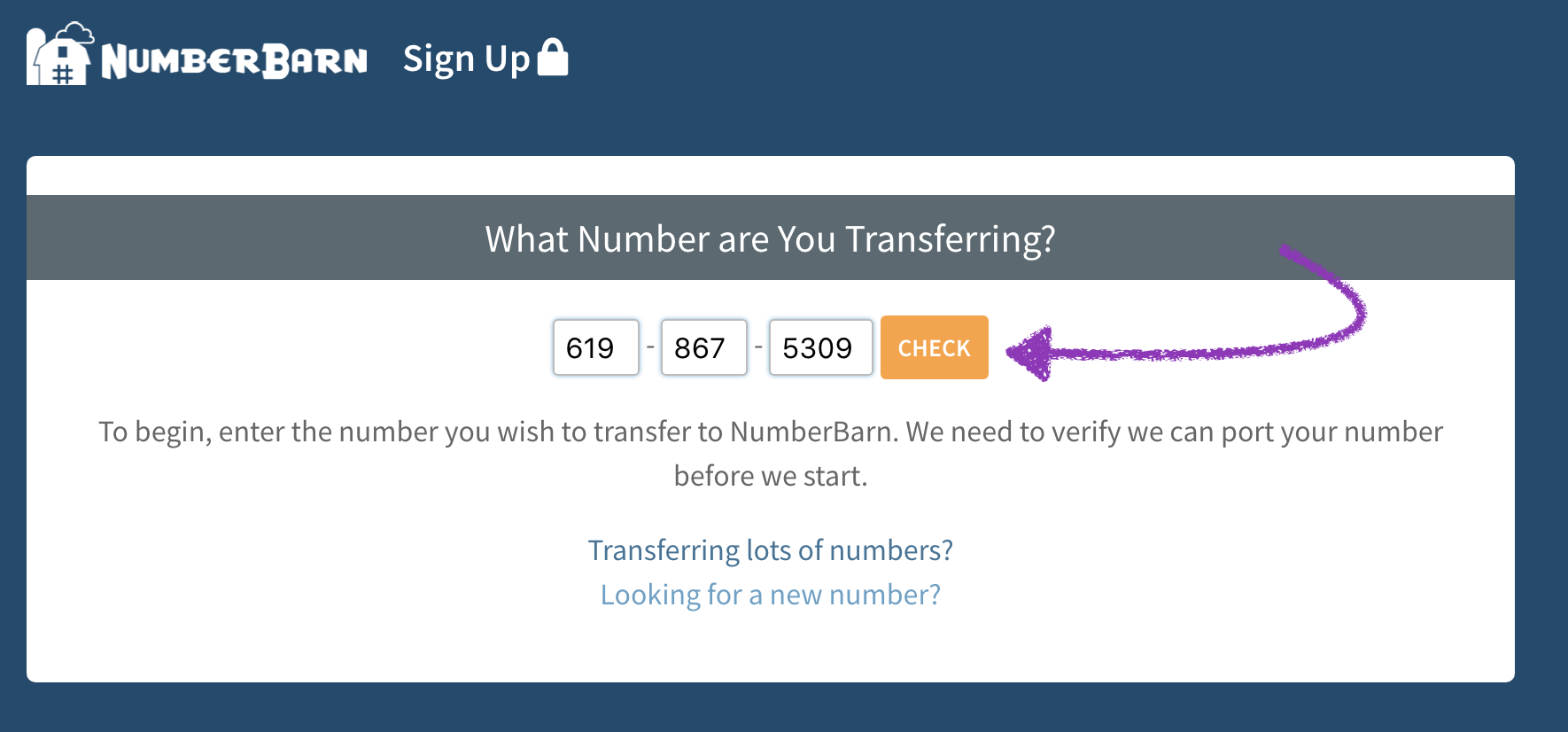 We check to make sure we can support the city and state of your number on our network. When you select the Check button, we do not check:
The items above are your responsibility to verify, as a phone number owner. If you're not sure, you'll want to check with your current service provider.
If you see the green checkmark, great! You can begin your port request to NumberBarn.


For those with a green checkmark, please continue to read ahead for the next steps:
Select the Get Started button to go to the next step.
Here you will be prompted to select a plan. You can learn more about our plans here. Many customers selling or licensing numbers will select the $2/month Park plan. Bulk park pricing is available starting at 100 telephone numbers.
Once you've selected a plan, proceed to the next step.
Contact Info - Enter the contact information that is on file with your current provider. Note the information on this page must match what is currently on file with your existing provider.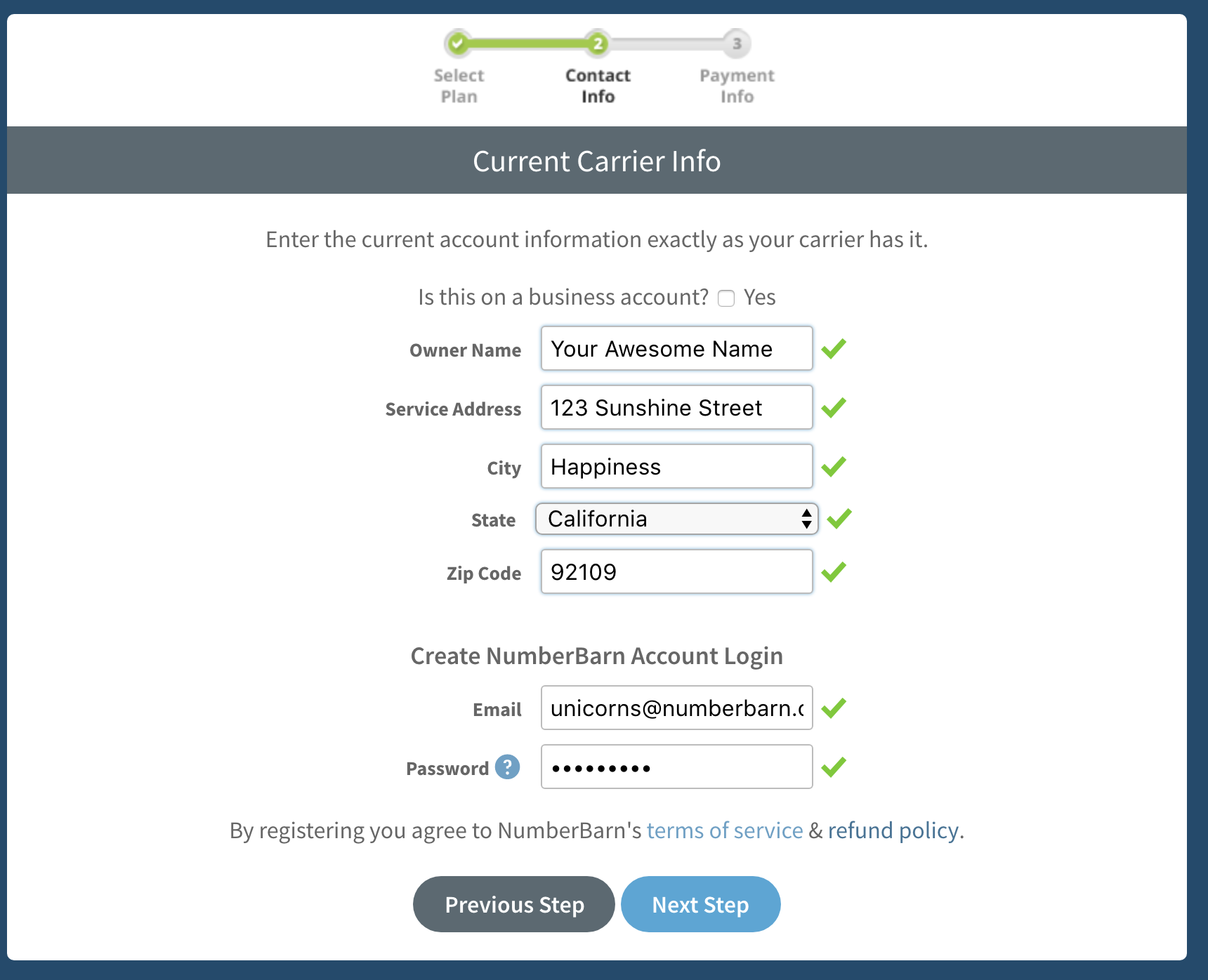 Enter the email address to place on file in your new account. Note the email you enter here will also be the login to your account and the email on file for notifications.
Enter a password. Passwords must be at least 6 characters and contain at least one letter and one number.
A green checkmark means your information fits into our text fields. If you see a red checkmark, it means there is an error with your information.
Select Next Step.

If the number you are porting is a wireless number, enter your account number and PIN.
Select Next Step.
Note the account number and PIN are required by your current service provider to port away and only used for internal purposes. They will not be stored on your NumberBarn account.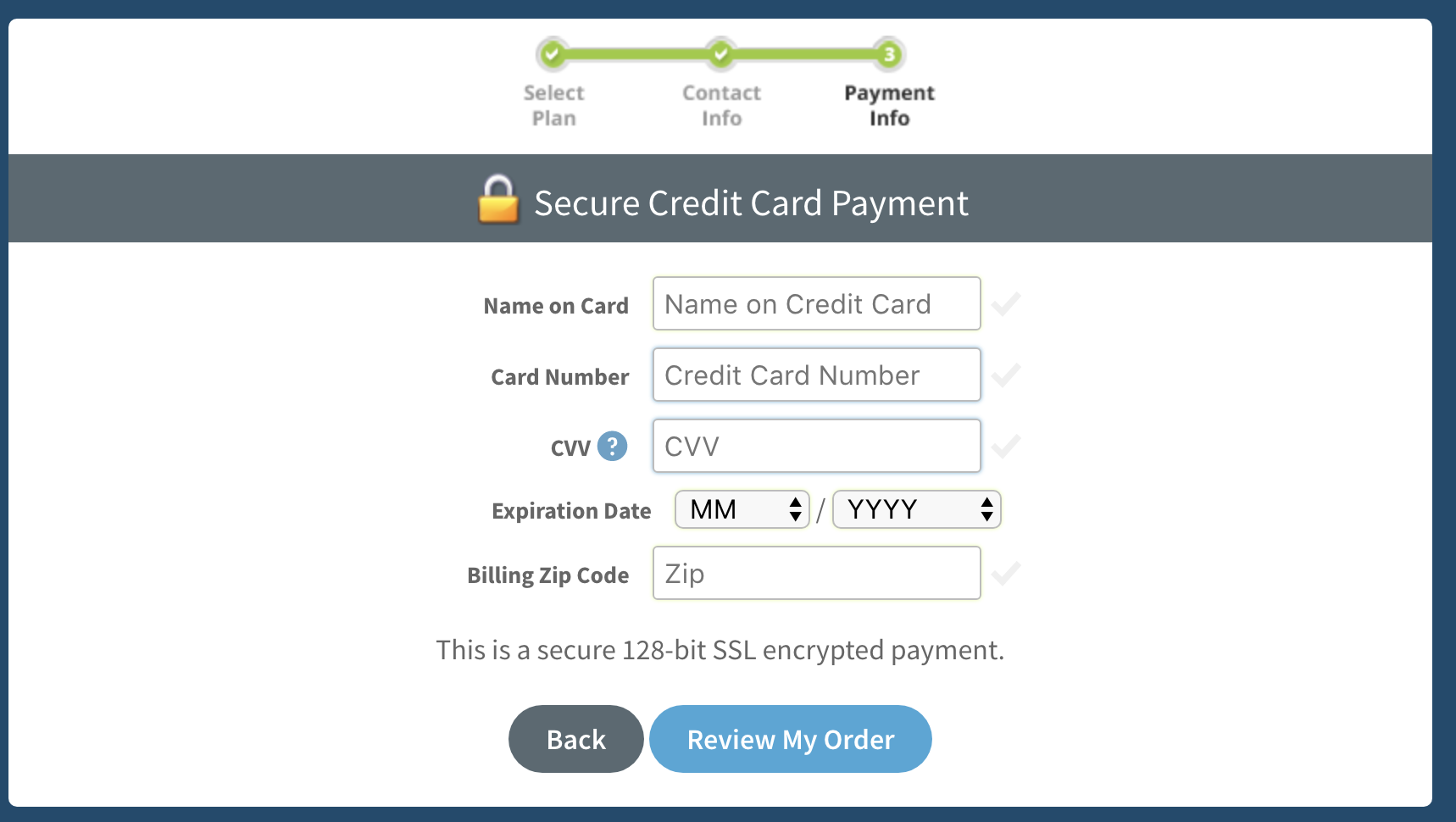 Enter your payment information.
We will bill you when your number port completes to your account and then on a monthly basis around that same date every month.
Select Review My Order.

If you need to make any changes, select edit.
If everything looks good, select Place My Order.
What happens next: Authorize your Port Request
Congrats! You have successfully initiated your port request. Now, you must verify your number and authorize the port. This tells us that you are the rightful owner of the phone number and gives us permission to submit your port to your current provider for review. Click below to learn about the various means of authorizing your port request:
Options for authorizing a port-in request: Call, Text or LOA/COB
What happens next: Waiting for a status update
After you have authorized your number port, we send the port request to your current provider for review.
Do not cancel your number with your current service provider.
When they approve the port, we'll notify you of the date in which it is scheduled to port.
If the port is rejected, we'll notify you and let you know why.
Porting takes anywhere from 3-10 business days to complete.
Listing your number(s) for sale or license
Once porting completes, it's time to list your number(s) for sale or license. The following article walks you through how to list your numbers or sale and/or license: