You don't have to sit behind a desk to wait for calls to arrive. The world outside your office awaits. Answer business calls on your cell phone! Purchase a new number with NumberBarn and forward those calls.
If you're new to NumberBarn and are not sure where to begin, this guide will walk you through the steps to purchase a new number and use call forwarding to an outside number. You'll also find that we weave helpful links into the guide below, in case you're looking for additional details on a process.
How do I purchase a new number?
To begin, hop over to our website to search for your new number. You can search through millions of numbers, which is sort of like trying to find a needle in haystack. To use our search system to the fullest potential we've put together this helpful Guide to Finding the Perfect Number.
It is also incredibly important to take note of the activation time frame. This is the time frame of which your new number will be activated. If you're uncertain about how to find the activation time frame, check out our guide here. We may also contact you to verify your order before completing it so be on the lookout for that in your email.
What is call forwarding?
Call forwarding is a magical yet simple service that takes one phone number and forwards it to another number. For example, when callers dial to (833) 3THE-PIG, they will be forwarded to your cell phone. Your cell phone will ring and you'll answer to be connected to your caller. Your callers do not know they are being forwarded to a cell phone. You can also forward calls to an auto-attendant menu system.
How much does it cost?

The purchase price of the phone number is a one time fee. You can find the purchase price listed to the right of the phone number in the search results. If you purchase a number and you change your mind, please check out our refund policy.
The NumberBarn call forwarding services are broken down by minutes used per month. Incoming calls will use minutes when forwarding (as well minutes be used on your outside phone service). Voicemail messages also use minutes of your NumberBarn plan. We do have some limitations on minute usage. Please review the Use Policies on our Terms of Service to make sure we're the right fit for you.
You can view the pricing of our Call Forwarding plans on the link below. Note there will be tax added on each plan.
We do not bill you a dime until your number activates to your account.
How do I begin?
To begin, search for your number, paying attention to the price and the activation time frame.

When you are ready, add the number to your cart by selecting Check Out to continue.
Select your preferred Call Forwarding plan.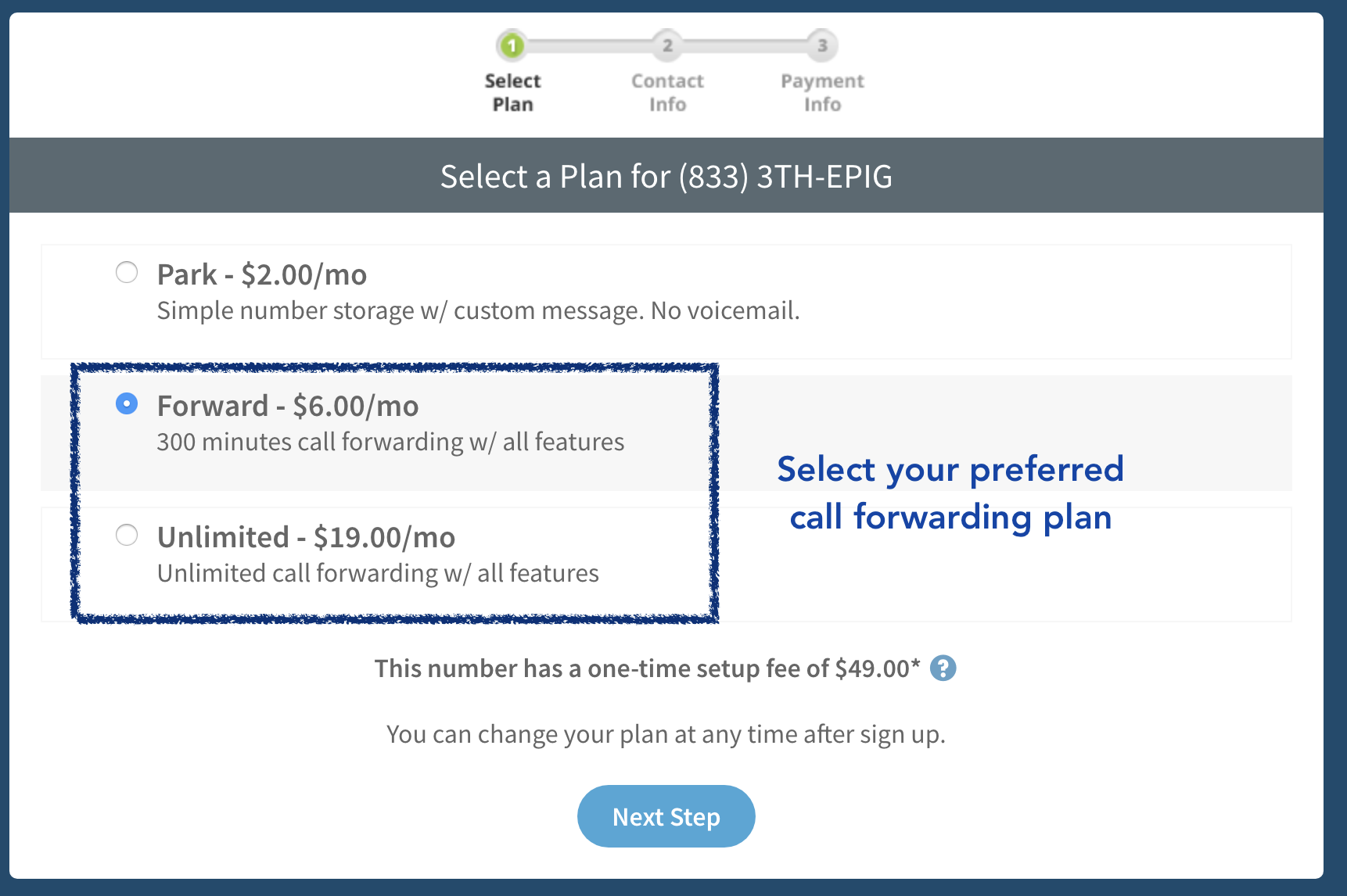 Select Next Step to create a new account (for new customers) or to confirm your billing information (for existing customers).
After you confirm your order, you'll receive a Welcome Email like the one below confirming your order.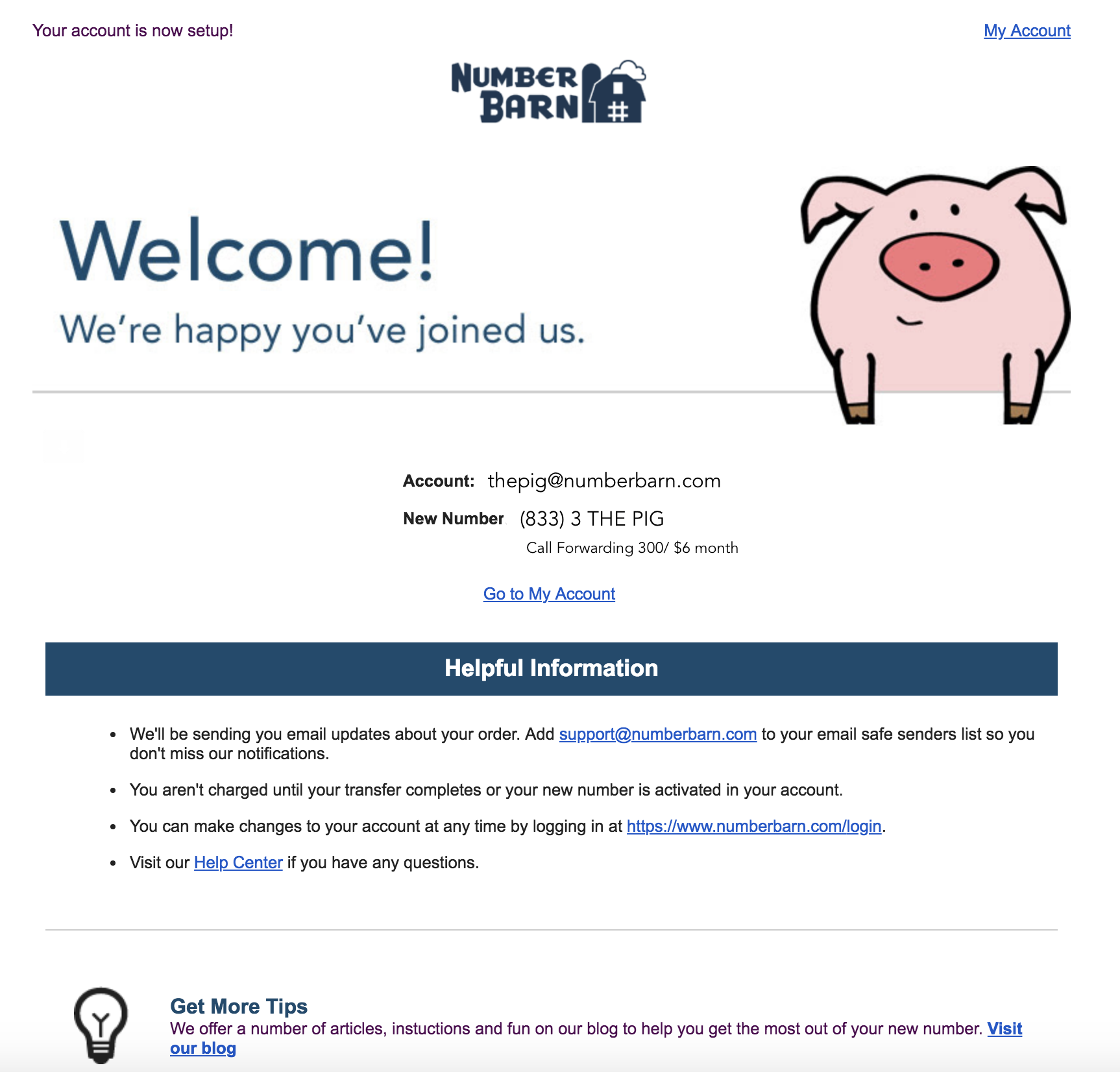 Now, you'll wait for your number to activate. It will appear like this in your account:

Your number will not work until it has been activated. However, you can configure the settings before your number completes. To understand how to configure your settings, check out these guides:
How to Configure Call Forwarding
How to Configure an Auto-Attendant Menu
Once your number has been activated, you'll receive an email from us confirming that it is ready to go. Calls will start routing using your settings immediately. Now, pack your bags and get traveling! Your business calls will follow you no matter where you go.