You're in another country and you want your family back in the states to be able to call you without incurring extra fees.
Make it easy on them and purchase a new US or Canadian number with NumberBarn and forward those calls to your international number.
If you're new to NumberBarn and are not sure where to begin, this guide will walk you through the steps to purchase a new number and use call forwarding to an outside international number. You'll also find that we weave helpful links into the guide below, in case you're looking for additional details on a process.
How do I purchase a new number?
To begin, hop over to our website to search for your new number. You can search through millions of numbers, which is sort of like trying to find a needle in a haystack. To use our search system check out our Guide to Finding the Perfect Number.
It is also incredibly important to take note of the activation time frame. This is the time frame of which your new number will be activated. We may also contact you to verify your order before completing it so be on the lookout for that in your email.
What is call forwarding?
Call Forwarding means that you'll take one phone number and forward it transparently to another active phone number, such as your cell phone.
Call Forwarding plans include features such as:
Note that our service does not support the use of:
SIP Trunking
Spamming or blasting
Bulk call in lines
Predictative dialing
For more specifics, please view our Terms of Service Use Policies.
How much does it cost?
Call Forwarding plans are broken down by minutes per month.
An incoming call will use minutes from your plan.
Voicemail left on your NumberBarn number will use minutes from your plan.
Call Forwarding Plan Fees
Consider for a moment how many calls you'll get every month.
Then, select a Call Forwarding plan that fits your usage needs:
International Call Forwarding Fees
Determine if you'll pay any additional International Call Forwarding rates by searching the phone number or country here:
https://www.numberbarn.com/international-rates
The rates on the page above will be the per-minute, per-call rates you'll pay, in addition to your base Call Forwarding plan. This article walks you through determining the international rates for your number:
What are your rates to forward calls to my international number?
One-Time Number Purchase Fee
You'll pay a one-time fee to purchase and own the phone number. The cost of the phone number will vary. More details on that below.
How do I begin?
To begin, search for your number, paying attention to the price and the activation time frame.

When you are ready, add the number to your cart by selecting Check Out to continue.
Select your preferred Call Forwarding plan.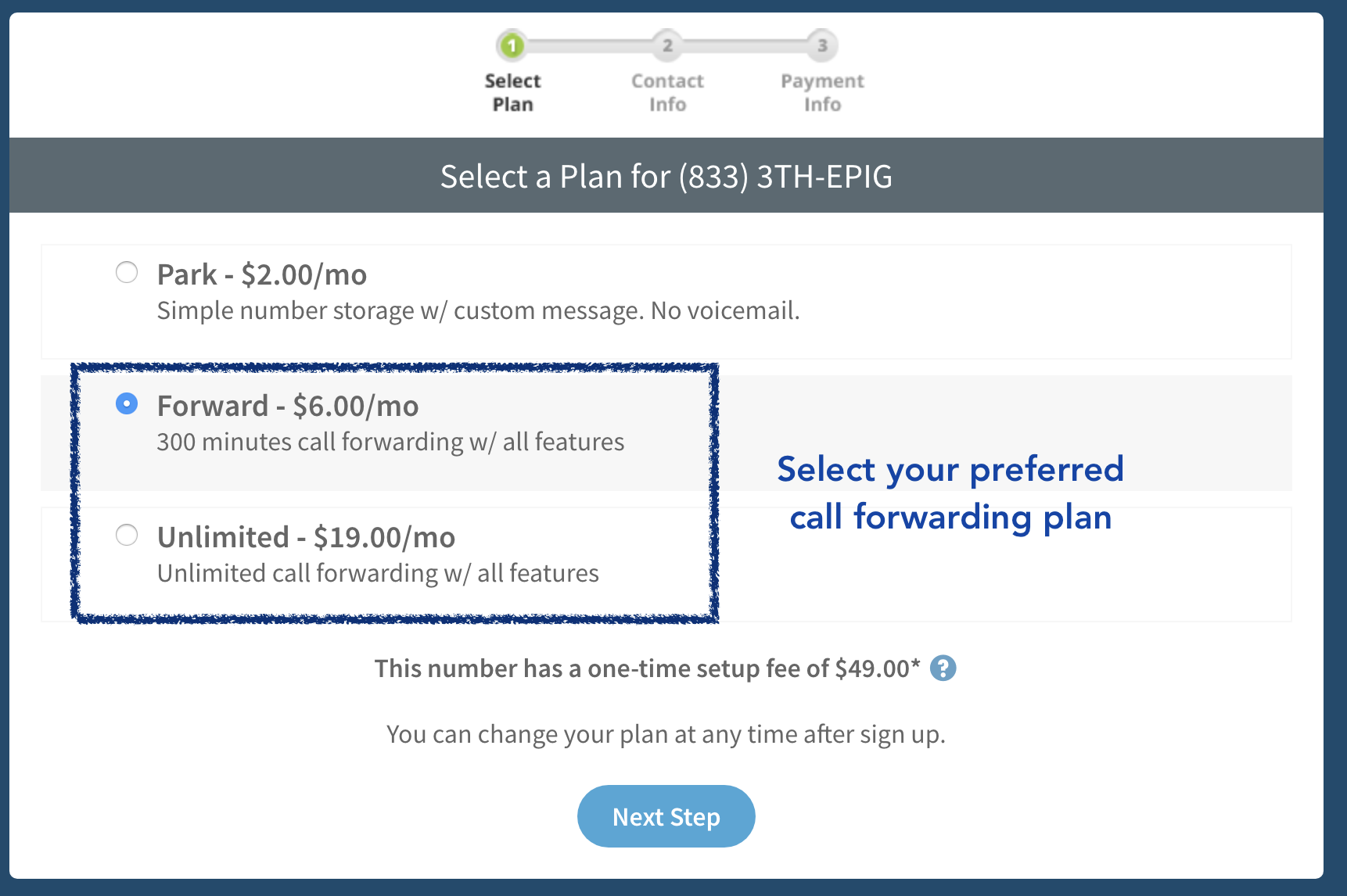 Select Next Step to create a new account (for new customers) or to confirm your billing information (for existing customers).
After you confirm your order, you'll receive a Welcome Email like the one below confirming your order.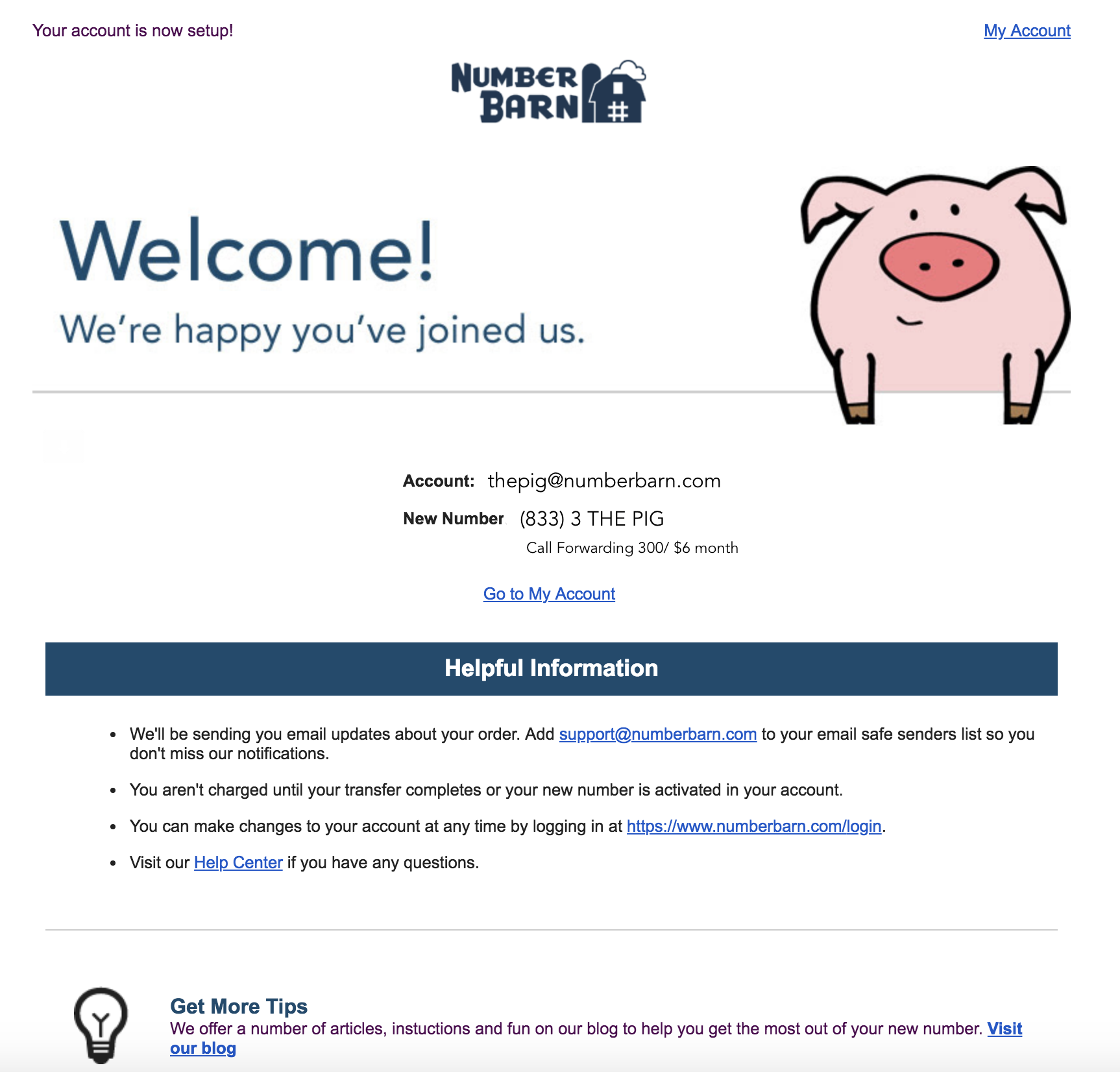 Now, you'll wait for your number to activate. It will appear like this in your account:

Once activated, you'll receive an email from us confirming it's ready to use.
Set up call forwarding to your international number
Once your number is activated, our customer support team will need to activate international call forwarding for your account. To request this Contact Customer Support.
In your request, include:
The number you are porting to NumberBarn
The international number you wish to forward calls to
Within 24 business hours, if not sooner, NumberBarn will enable international call forwarding on your account.
Note: If international call forwarding has been enabled on your account already, you can always change the telephone number you wish to forward to. Here are the steps to do so:
Select Numbers
Click on the number you wish to update
Make sure you're on the Calls tab with the "Send all calls to a" dropdown set to Forward
In the box provided, enter your international number beginning with the "+" and the country code. As pictured below, if you formatted it correctly and entered a valid telephone number, our system will inform you of the rate per minute